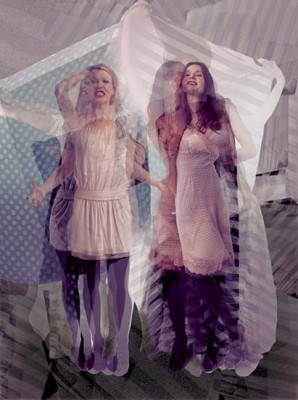 AMAVO sono un duo chitarra e batteria con Silvia alle corde e Anna alle pelli. Silvia scrive i testi che canta. "Nel corso di questi anni abbiamo composto canzoni poco etichettabili ma di chiara natura rock, i tempi vengono frantumati e ricomposti con andature a volte dissonanti ed a volte puramente melodiche." AMAVO suonano quello che sono: altalenanti, frenetiche, cattive, dolci, ruvide, snervate, accattivanti, inciampanti, asequenziali, curiose, incastrate, veloci, amplificate, fiabesche, rumorose, bacchettose, illuminate, ritmate, fumose, curate, invasate, manuali, travestite, amate, criticate, valvolari,staccose, corrucciate, imprecisate… AMAVO esistono dal 2003 a Venezia. ANNA era batterista di UTERUSACHE (duo chitarra batteria) poi di COREMATTO (duo basso batteria). SILVIA era chitarrista di NOVA EXPRESS. .  Dopo numerosi concerti suonati ovunque in Italia e Francia, un primo cd autoprodotto ed uno split cd con gli svizzeri El Toco, debuttano nel 2008 "happymess" (fromscratch). Nel dicembre 2011 esce "Le ragazze del rock" di Jessica Dainese, uno splendido libro che percorre la storia della musica fatta dalle donne dagli anni '60 ad oggi, le Amavo ne fanno parte rappresentando la musica sperimentale italiana con una lunga intervista. A distanza di 4 anni da Happymess, dopo oltre un centinaio di concerti suonati in Italia ed in Europa, a marzo 2012 esce "gracefool" il nuovo album per FromScratch Recs e Jena Dischi. A maggio 2013 aprono le date del tour europeo degli Shellac di Steve Albini.
  AMAVO are Anna & Silvia. Since the end of Summer 2003, AMAVO play together, electric guitar and drums. AMAVO sing too. AMAVO have even been three for a while, with Mariele on bass. AMAVO are back in two since January 2005. AMAVO play the way they are: frenetic, quick, fuzzy, enlightened, anual, amplified, loved, hated, imprecise, rhythmical, wedged, stumbling, fablesque, sweet, evil, odd, pleated, inaccurated, moky, possessed, disguised, criticised, rough, fazed, catchy, curious… Anna is a photographer, she played drums with Uterousacheand then with Core Matto, since she met Silvia, which used to play guitar with Nova Express, since they met each other starting up AMAVO. After a self released demo, a split cd with the swiss band El Toco and many gigs in Italy and\ France they debut in 2008 with the album "happymess" (fromscratch). 4 years after happymess, spent playing over 100 gigs in europe, on march 2012 the second album "gracefool" is finally out (co produced by fromscratch recs / jena dischi). On may 2013 Amavo are opening band of european tour of Steve Albini's Shellac.
[youtubegallery]
[/youtubegallery]

Buy 2 albums (CD or vynil) and get 3, the 3rd is free! The offer expires November 30, 2014. The whole catalogue offer here CD shipping is FREE - Vynil flat shipping rate. Paga 2 album (CD...
Read more posts