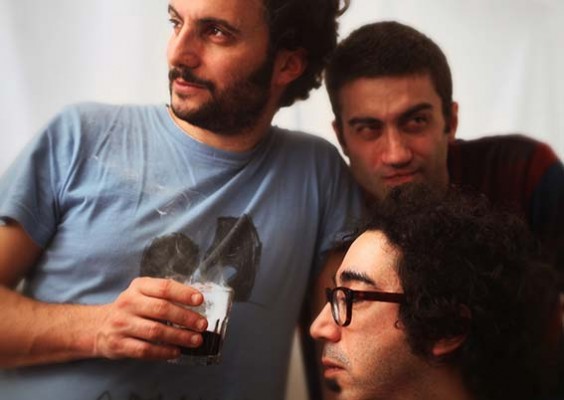 MIRANDA sono attivi a Firenze dal 1999. Nei diversi anni di attività hanno percorso direzioni musicali differenti. La visione artistica di Miranda è stata definita "radicale e spregiudicata, il loro modo di suonare disgregato e storto, la loro indole alienata e a tratti beffarda" (Blow Up 100). Hanno all'attivo due albums su fromScratch records (inside the whale del 2003 e rectal exploration del 2006) e uno split cd con i canadesi Creeping Nobodies. Rectal exploration è l'album che li ha fatti conoscere ed apprezzare dalla critica (rumore li ha definiti "uno dei nomi più interessanti dell'underground italiano", nov. 07), mentre i loro concerti teatrali e d'impatto, in Italia e in Francia, ne hanno fatto un piccolo culto della NoWave made in italy.
Nel 2009 pubblicano il terzo album per fromscratch/audioglobe (ristampato nel 2011 per fromscratch/mandai), growing heads above the roof, che arricchisce il suono dei miranda di suoni sintetici e campionati, considerato dalla stampa specializzata il migliore della band (blow up 133). Il suono "è più asciutto ed essenziale, arriva dritto al punto" (rumore), "Ascoltarlo ed essene presi è un tutt'uno. La formula – retrò-futuribile – è ormai assurta a rango di classico contemporaneo" (rockerilla). Nel 2011 l'album è ristampato per fromscratch/mandai ed ha ottimi riscontri nella stampa inglese, francese e tedesca.
Nel 2013 esce il quarto album "asylum: brain check after dinner" (fromscratch/audioglobe).
 MIRANDA is a band based in Florence, italy, since 1999. During the several years of activity they've run different musical directions. Miranda's artistic vision has been described "radical and broadminded, disgregated and oblique, their attitude mocking and alienated" (blowup magazine 2006).
They've released 2 albums on fromScratch (inside the whale, 2003, and rectal exploration 2006) and a split cd with the canadian band Creeping Nobodies. Defined "one of the most interesting italian underground bands" (rumore magazine, nov. '07) they're becoming a cult band of the no wave scene, thanks to their incendiary shows and to their personal and uncompromising research constantly carried on..
The 3rd album, growing heads above the roof (released on 2009 may for fromSCRATCH/audioglobe, rereleased on 2011 july for fromscratch/mandai), adds synthetic and sampled sounds and it's considered the best Miranda's album (blow up mag). The sound is dry, essential and immediate (rumore mag.)
The 4th album "asylum: brain check after dinner" is released on feb. 2013 (fromscratch/audioglobe)
Miranda are:
2013–>today
Piero Carafa (bass), Giuseppe Caputo (synth, guitar, voice, electronics), Martino Lega (drum), Gioacchino Turù (electronics)
2004-2013
Piero Carafa, Giuseppe Caputo, Nicola Villani (drum, drummachine)
2002-2004
Piero Carafa, Giuseppe Caputo, Gabriele Ragonesi (drum)
2000-2001
Piero Carafa, Giuseppe Caputo, Pietro Mele (drum)
VIDEOS:[youtubegallery]
[/youtubegallery]