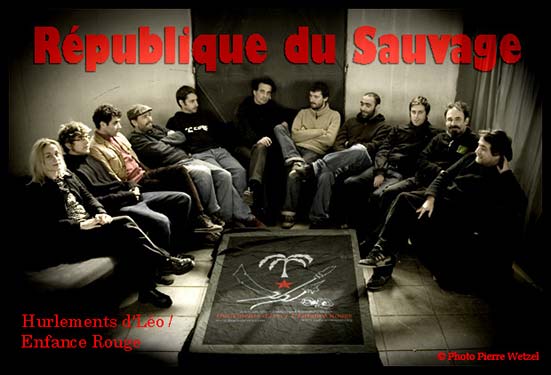 Republique du Sauvage is the fusion/meeting of two of the most famous french indipendent bands: Enfance Rouge and les Hurlements d'Leo. The gipsy folk of Hurlements d'Leo falls into the avant rock of l'Enfance Rouge producing a weird mix that ranges from avant rock to melancholy, mediterranean sounds and electric violence, noise and folk.

Les Hurlements d'Léo è uno dei più famosi gruppi indipendenti francesi. Ma è sopratutto una formidabile avventura umana, fatta di musica, amicizia e chilometri percorsi attraverso Francia, Europa dell'Est, Germania, Ungaria, Africa, Russia, Giappone, Australia, USA e Canada.
La loro musica è un misto di Java, di rock, come di suoni dell'Europa dell'Est, ed è suonata da strumenti vari, da chitarre, violino, fisarmonica, contrabbasso, trombone, batteria, tromba, sassofono e pianoforte. E' molto riduttivo, ma possiamo dire che abbiamo qui un' incrocio tra Tom Waits e la Mano Negra, tra Marte e Giove. Les Hurlements d'Léo hanno cominciato nel 1985 a Bordeaux, calciando prima la loro musica nei club, bar & bettole del famoso porto della costa atlantica francese.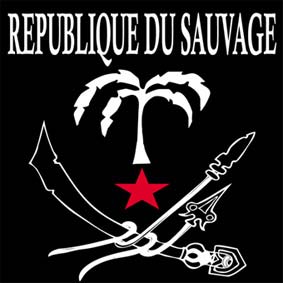 Dopo 6 albums pubblicati (tra i quali "Café des Jours Heureux", "La Belle Affaire", "Ouest Terne", e l'ultimo "Temps suspendu"), il gruppo vanta ormai successi con quatro zero di vendite discografiche, ma sopratutto un pubblico affezionatissimo. E un gusto rimasto intatto per il viaggio: questo è la forse la parte più importante di questo collettivo atipico.
L'Enfance Rouge sono: François R. Cambuzat (voce, chitarra), Chiara Locardi (voce , basso) e Jacopo Andreini (batteria, ottoni). Senza direzioni musicali né frontiere geografiche o artistiche. Confessano in questo momento un interesse speciale per Keiji Haino, Wadih el Safi, la musica classica contemporanea o per le canzoni della guerra civile di Spagna. Il progetto si é sviluppato intorno a François R. Cambuzat e Chiara Locardi nel 1993 con il nome "François R. Cambuzat et les Enfants Rouges" dal 2000 cambiato in "L'Enfance Rouge". Concerti in tutta Europa. La stampa ne ha parlato come di un incrocio tra malinconia e rabbia violenta, tra i Velvet Underground e una certa avanguardia europea.
Les Hurlements d'Léo is one of the most famous indipendent folk band. Their music is a mix of java, rock, east europe sounds and it's played with variuous new and traditional instruments. It can be described like a weird crossing between Tom Waits and Mano Negra.
Les Hurlement d'leo started in 1985 in Bordeaux, France, and they have published 6 albums ("Café des Jours Heureux", "La Belle Affaire", "Ouest Terne", and the last one"Temps suspendu") and thanks to their intense live activity they have a broad success in France and Europe.
L'Enfance Rouge: François R. Cambuzat (vox & guitars), Chiara Locardi (bass & vox) and Jacopo Andreini (drums & horns). No musical directions: they confess at the moment a deep interest in Keiji Haino or Wadih el Safi, in modern contemporary classical music or in songs from the spanish civil war. A 360° view.
The band is regulary touring all over Europe. Live, the songs are wild, making the press talk about them as a crossroad between melancholy and heavy rage, between the Velvet Underground and some weird sound-makers. Freedom is the word.
www.enfancerouge.org , www.hurlements.com

Buy 2 albums (CD or vynil) and get 3, the 3rd is free! The offer expires November 30, 2014. The whole catalogue offer here CD shipping is FREE - Vynil flat shipping rate. Paga 2 album (CD...
Read more posts