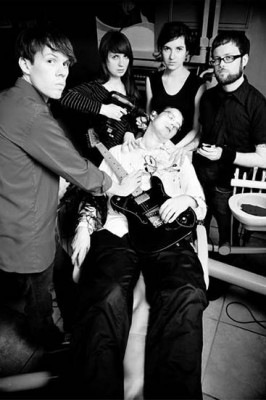 I CREEPING NOBODIES sono una band storica della vivace scena di Toronto. La loro attuale line up comprende membri di diverse bands canadesi: Sick Lipstick, Currently in These United States,Parts Unknown, Martyrs, e condivide un membro con la Memory Forever, team di art-fantasy di Boston. Ispirati da bands come the EX, Pere Ubu e The Fall, i Creeping Nobodies producono una musica intrigante che non rinuncia ad esplorare nuovi territori.
Conosciuti come una delle più enigmatiche, incendiarie ed eccitanti bands di Toronto, tra il 2006 ed il 2007 hanno suonato numerosi concerti tra Canada e USA. A maggio 2006 hanno prodotto il loro secondo disco Sound of Joy per la Blocks recording club. L'album è stato prodotto da Wharton Tiers (Theoretical Girls) e è stato promosso in tour con i Wharton Tiers Ensemble. Nell'autunno del 2006 la band ha fatto il suo più lungo tour coast to coast degli usa, da san Diego a New Orleans passando per NYC e Monreal. Al tour è seguita l'uscita di un secondo 12" prodotto dalla blocks e della dead astronaut. Nei mesi più recenti i creeping nobodies hanno suonato ancora tra USA e Canada.
Al momento la band sta per esportare la propria musica in Europa. L'autunno del 2007 vedrà, infatti, l'uscita di due produzioni europee. La prima sarà un vinile per l'etichetta svedese Deleted Art intitolato Augurs & Auspices che conterrà due precedenti ep e nuovo materiale. L'altra uscita sarà lo split cd con la band italiana Miranda per la fromSCRATCHrecords. Alla fine di settembre la band sarà in Finlandia da dove partirà per un lungo tour europeo.
THE CREEPING NOBODIES are one of the longest running bands in Toronto's constantly evolving music community. Their current line-up encompasses a broad spectrum of the Toronto scene, with ex-members of the Sick Lipstick, Currently in These United States, Parts Unknown, Martyrs, as well as sharing a member with Memories Forever, the art-fantasy team from Boston. Inspired by such bands as The Ex, Pere Ubu, and The Fall, The Creeping Nobodies seek to produce challenging music and are never afraid to explore new territory or re-invent themselves.
Long known as one of the most enigmatic, incendiary and exciting bands in Toronto's underground music scene, The Creeping Nobodies spent 2006 and 2007 making their presence known throughout Canada and the United States. In May 2006 they released their second full-length album Sound of Joy on Blocks Recording Club. The album was produced by Wharton Tiers (Theoretical
Girls). In support of this release, the band toured with the Wharton Tiers Ensemble through several cities in the Northeastern U.S. and Canada. In Fall 2006, the band undertook their largest tour to date, spanning both sides of the continent, from San Diego to New Orleans and through to NYC & Montreal. Since then they have also released a second vinyl recording, a split 12" with
Toronto's Anagram that was released as a collaboration between both Blocks and Dead Astronaut. In recent months, The Creeping Nobodies have toured extensively throughout eastern Canada and the United states.
Currently, the band is eager to unleash their music on more distant terrain. Fall 2007 will see the release of two Creeping Nobodies recordings in Europe. The first will be a full length vinyl LP on Sweden's Deleted Art entitled Augurs & Auspices. This recording compiles two previously released E.P.s, and also includes newly recorded material. The other recording will be a split CD with Italian band Miranda on the label fromScratchrecords. In late September the band will fly to Finland to begin a month long tour throughout the continent.
VIDEOS:[youtubegallery]
[/youtubegallery]

Buy 2 albums (CD or vynil) and get 3, the 3rd is free! The offer expires November 30, 2014. The whole catalogue offer here CD shipping is FREE - Vynil flat shipping rate. Paga 2 album (CD...
Read more posts