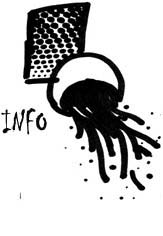 FromSCRATCH was born in 2003, as a booking agency and label.
We haven't genre's limits. We do not not produce music, just document it . Our aim is not discovering and producing music, but only supporting or giving a contribute for the creation of human and musical contacts, documenting the results. Musicians and bands involved are not gathered by genre, but by an attitude: the research of sonorities and musical structures, not necessarily new, but authentic.
Disturbing domestic peace since 2003. We have set up hundreds of gigs and released a lot of albums of italian and international musicians.
DEMO POLICY
We accept and listem promos, but before sending stuff:
1) listen to some of the Mp3 from the site to get an idea of the music we like and produce;
2) please do not send mp3 via email;
3) we receive a lot of promos, we try to answer to all the emails, but it's not always possible;
4) if we're interested to your music, be sure that we will contact you, so please do not write emails;
5) send a message using the form on contact page, with some basic information about your band and a link to your music;

fromSCRATCH nasce nel 2003 come agenzia di booking ed 'etichetta.
Non abbiamo preclusioni di genere. Non produciamo musica, proviamo solo a documentarla. Non vogliamo scoprire e produrre musica, piuttosto c'interessa supportare e creare legami umani e musicali e di documentarne il risultato. I musicisti e le bands coinvolte nel nostro progetto sono accomunati, più che dal genere, da un'attitudine alla ricerca di sonorità e strutture musicali non necessariamente nuove, più "semplicemente" autentiche. Cerchiamo di creare collaborazioni, senza direzione artistica prestabilita, con i musicisti più disparati di cui condividiamo l'attitudine.
INVIO DEMO
Accettiamo demo, ma prima di spedirci materiale:
1) date un ascolto agli MP3 presenti sul sito per farvi un'idea delle cose che produciamo;
2) non mandate mp3 per posta elettronica;
3) tenete presente che siamo un'etichetta piccolissima mandata avanti per/con passione;
4) sappiate che non facciamo contratti, non assumiamo gruppi, non siamo talentscout e, sopratutto, non campiamo di musica;
5) nonostante questo riceviamo molti demo ed email, non sempre ce la facciamo a rispondere a tutti e di questo ci scusiamo in anticipo;
6) se il materiale ricevuto ci interessa saremo noi a contattarvi: ci piacerebbe dare dei feedback a tutti, ma non sempre ce la facciamo, non prendetevela…
7) prima d'inviare materiale mandateci comunque un messaggio usando il form sopra, specificando l'oggetto della richiesta, includete un minino di informazioni e vi diremo a chi spedire il materiale;